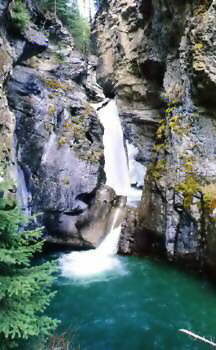 Johnston Canyon Falls
Johnston Canyon is between Banff and Lake Louise. There is a fairly short hike involved here, made somewhat treacherous in April by the snow and ice on the trail. At some points I was holding every solid thing I could find to keep from sliding away.

From Banff to Lake Louise, you can take the fast road or the slow road. We left the fast road to the Canadian inter-province truckers, and took the Bow Valley Parkway, stopping frequently to walk about, take photographs, or watch wildlife.
Was it something I said? I really did not do anything to upset this elk, other than just happening to drive by. With so many big animals wandering the countryside, careful driving is a necessity.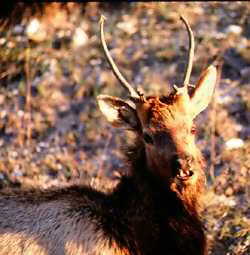 Elk with an attitude